July 14, 2011
Photo Deals
I have been taking advantage of a TON of photo deals lately.  Many of them have been free, some 50% (or more) off.  I FINALLY ordered our 90 page 12×12 wedding album (yay!), plus two 8.5×11 photo books of Berean, two 4×6 "brag books" of Rean for his grandparents, an 11×14 wall canvas of one of our engagement photos, an 8×10 collage of Rean, and some personalized thank you cards.  It would have all cost around $300 plus shipping, but I've paid about $100 total (eighty of which was our wedding album, which a. I should have ordered two and a half years ago, and b. would have cost hundreds to order from a photographer!)  I also used a Groupon for a baby photo shoot and photo package worth $150 and paid $16.
I absolutely LOVE photos, art, and making scrapbooks (online!), so this has been really fun.  I used my birthday money, so I didn't feel as guilty, and I think photos are worth it.  They are memories that I know I'm going to cherish forever!  The key to all this has been friends who have shared great deals with me, and signing up for photo websites' e-mails.  I never give my personal e-mail to companies; instead I have a separate e-mail I use for all coupon offers.  Then when I'm looking for a deal on something I can go search that inbox, and if anyone decides to sell my e-mail I can ignore the thousands of spam e-mails without them cluttering up my personal inbox.  The one downside is I use whatever program has the best deal, which means I have to take the time to upload photos to a bunch of different sites.  But it's worth it!
Now Shutterfly (which I must say is my favorite site for photo books–they have the best software with the most freedom to do exactly what I want, and I think their books are the nicest quality) is offering me a $10 coupon to share my latest project, so here you go (and no, I don't get anything for saying they're my favorite.  They really are.)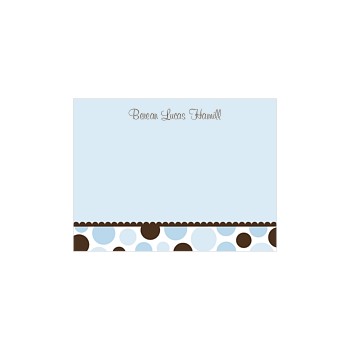 Cute, huh?  I paid shipping, which amounted to as much as I would pay for a normal pack of thank you cards, so why not?  If anyone is interested I will start posting these deals on here so you can use them, too.  Leave me a comment if you want me to!
1 Comment »